Adam Leader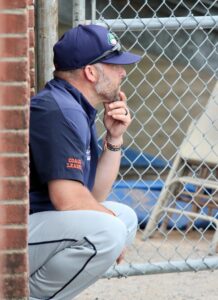 Coach Leader founded Leader's Baseball Camp in 2003.  Since then, he has worked with thousands of players who went on to become great baseball players.  Coach Leader is entering his 21st year at Reservoir. He started the baseball program at Reservoir when the school opened in 2002. In the program's 21-year history, Reservoir has had 20 winning seasons. With over 275 wins under his belt, Coach Leader has led the Gators to 2 county and 2 District Championships, made it to 5 regional championships, and won the 2014 3A State Championship. The 2014 team finished in the top 50 in the nation, according to Baseball America. Coach Leader serves as the Vice President of the Maryland State Coaches Association. He has been chosen to coach in the Brooks Robinson Senior All Star Game, won District Coach of the Year in 2011, 2012 and 2014 and was named 2014 Maryland Baseball Coach of the Year. Coach Leader is also the Head Coach of the Olney Cropdusters, a team in the Ripken Collegiate Summer League.  Coach Leader lives in Woodstock with his wife Michelle, and his three children Drew, Cindy, and Katie.
Overview
Our goal is to teach players of any age the correct way to play baseball. Many of our campers come with habits that limit their baseball ability. We work to change those habits. Others come with a great baseball background and we will extend their knowledge and step their game up to the next level. Those with little or no experience will learn the basics. Not only will our players learn baseball, they will understand the game of baseball.
Everything Baseball
These sessions are designed for players at any level who would like to improve their ability to the next level. All aspects of the game will be covered. Players will be broken into groups according to age and playing ability so every player can get coached at their appropriate level.
Pitchers and Catchers
This session is designed for players who are or wish to become pitcher and/or catchers. This session will include drills on technique, as well as the mental aspect of those positions. This session will also teach campers how to strengthen and take care of your arm.
Offense Only
This session is designed to teach players all aspects of the offensive part of the game. This session will include drills on hitting to all parts of the field, bunting, base running and the mental aspect of offense.
Arm Care
Campers attending any session during the summer and their parents will be invited to listen to Jason Nunn (DPT, CSCS) talk about ARM CARE. Jason is the owner and Physical Therapist at Catalyst Orthopedic and Sports Physical Therapy in Columbia and co-owner of AXIS Sport Performance Training.
What to Bring
Players should bring the following items to camp daily:
baseball glove
long pants
athletic supporter
hat
lunch (if also attending the afternoon session)
Other items (not necessary to have to participate)